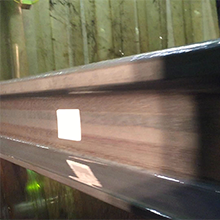 The Challenge
BACKGROUND:

Approximately 20 years ago, a large multinational steel company came to FOX IV with a challenging application to label steel rails as they exit the rail straightener. Known for solving unique applications, FOX IV accepted the challenge.

APPLICATION:

The customer needed to apply 3.5" x 2" (89mm x 51mm) labels to 66' - 86' (20.1m - 26.2m) steel rails used for railroad tracks. The rails moved at rapid pace - 138' per minute (42m/min) , or 2.33' per second (0.71m/sec), and a new rail would be presented approximately every 12 seconds. Four to six labels were to be applied to side of each rail. To complicate matters further, the rails were cold and wet.

ENVIRONMENT/SPECIAL CONDITIONS:

Temperature controlled factory environment with high levels of moisture. The steel rails would be wet as the labels were being applied. Rails were of varying length and moving at high speeds.
The Solution
SOLUTION:

FOX IV designed and supplied Datamax (now Honeywell) based print and apply labeling stations. The labeling stations installed included FOX IV 8051 Standard label print and apply systems with large capacity label supply, environmental enclosures to protect them from the moist environment, high speed tamp-blow applicator pads, random stroke sensors, and linear encoders. The enclosures were mounted on linear slides to make them more accessible.

The labeling systems were outfitted with high speed tamp-blow applicator assemblies with random stroke sensors which enable the applicator head to come extremely close to the moving steel rail and blow the label onto it. A linear encoder triggers the label application approximately every 14 feet.

FOX IV's expert software engineers also wrote a custom user interface with database SQL and supplied computer work stations in industrial enclosures.

In addition to the equipment, FOX IV sourced and converted labels to meet adhesion requirements of the application. One of the biggest challenges was to find a label that would adhere to the wet rails as they travelled by the printer-applicator at such a high rate of speed. The label would need to have excellent initial tack and be able to stick through the water onto the steel while being able to be printed and peeled by the FOX IV print and apply unit. FOX IV was able to supply a synthetic label with a specialized adhesive that has excellent print quality and the ability to be peeled from the liner by the printer-applicator.

The labeling stations were installed in 1999 and continue to work as of this writing.